Regular price
Sale price
$19.00 USD
Unit price
per
Sale
Sold out
Our tack reducer makes installation EVEN easier. Mist it on to a panel and wipe it off after 30 seconds. 
If you're an experienced installer you may not need it at all but it really does make installation faster and easier by not only reducing the tack but also enhancing the air release qualities.
Avoid getting this product on edges or recesses where you want maximum adhesion. When using the tack reducer, post heating the entire panel becomes even more important. The track reducer will lower surface friction to make installation easier and heating to 200 degrees F will lock the vinyl in place.
One thing to be careful of is having excess material from a neighboring panel lie on vinyl that had been installed using tack reducer if you haven't yet post heated the panel. The surface friction will be lower between the vinyl and the panel, but high for the two pieces of vinyl, so when you attempt to pull off the trimmed vinyl it can lift the vinyl underneath and cause a wrinkle on your completed panel.
This can be avoided by post-heating the panel completely before moving on, putting masking tape underneath where your excess will lie, or spraying the tack reducer on top of the finished panel where the excess will lie. Always test spraying the tack reducer on an excess piece to ensure it doesn't discolor matte or satin vinyl.
View full details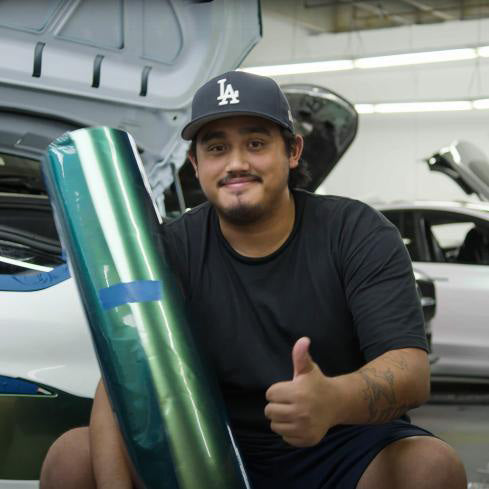 You won't have to do it alone!
If you're a DIYer, you don't have to worry about having to figure it out on your own.
Join our Discord and tell us about your project. You'll get help in real-time from our team of installers.
Join Now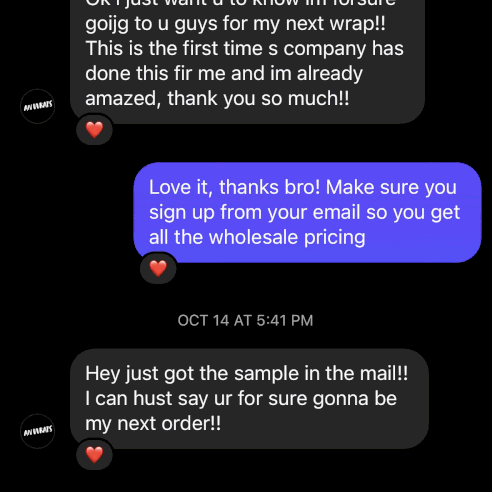 Our film is easy to install!
We've received positive feedback from our customers about ease of install and the high quality of our film. Some have even made videos reviewing it! Read about it on our testimonials page.
Read Now
Collapsible content
DETAILS

Film thickness: 3.2-3.8 mil
Adhesive: Relative low tack adhesive with proprietary technology
Indoor life: up to 5 years when care instructions are followed
Outdoor life: up to 3 years when care instructions are followed
Storing period: 1 year stored at 60-80°F out of direct sunlight and in original package.
Curing temperature: 200°F
Application Type: Dry
SHIPPING

Under normal circumstances orders are shipped within 1-2 business days. Plan for 7-10 business days for arrival although most orders arrive about 1 week from purchase.